Utility Closet Makeover Reveal
It's time to share my 5 week utility closet makeover! This utility closet used to be full of coats, chairs, vacuums, and other miscellaneous items. We moved the coats to the other smaller closet across the hall and decided to make this larger one strictly for storing cleaning supplies, household appliances, and our carry-on luggage. Let me show you where we started.
BEFORE
AFTER
(insert me screaming and dancing with joy)
AHHH!!! I'm so happy with how organized this closet is now! The top shelf holds my favorite Bissel cleaner and portable high chair that we keep for friends with little kids. We left the wire shelf in case we decide to use it for coats again in the future. Plus, it was a huge hassle to remove. I painted it the same color as the walls so that it could blend in better. The paint color is Urbane Bronze by Sherwin Williams.
I already had these two large baskets and just moved them here from our foyer. They hold extra paper towels and toilet paper rolls. You can find something similar here.
These black weave patterned decorative baskets store hand soap, napkins, and other cleaning essentials. I used to store the hand soap all around the other bathroom cabinets but would frequently run out because I thought we had enough. No more looking around each cabinet for soap because I know exactly how many are here now!
This over the door shoe organizer is perfect for holding a bunch of smaller items like lint rollers, vacuum components, and other cleaning supplies.
It's so nice knowing and seeing where everything is. There's no more digging around for a specific vacuum part. I got rid of our other stick vacuum once we got this Ryobi one that operates from a battery. It's completely cordless and makes vacuuming so much easier! We also got rid of the Swiffer vacuum since the Ryobi gets the job done both on hardwood and carpet. The two vacuums fit nicely on this wall. We measured the shelves so that there would be adequate space for all 4 of our carry-on luggage. Yes, there are 4 in there!
I added a simple wall hook organizer to keep the mop and long lint roller off the ground. It's super convenient having an outlet in here to charge the mini vacuum along with plugging in the fluorescent light bulb we hung next to the door.
The great thing about doing a project like this is that it makes you remove and get rid of things that are no longer serving your family's needs.
What do you think? Can you tell I'm super happy with this little makeover? As I get older, I realize how these specific parts of our home truly make a huge impact on how we live. Be sure to check out the rest of my friends who also partook in the 5 week makeover challenge.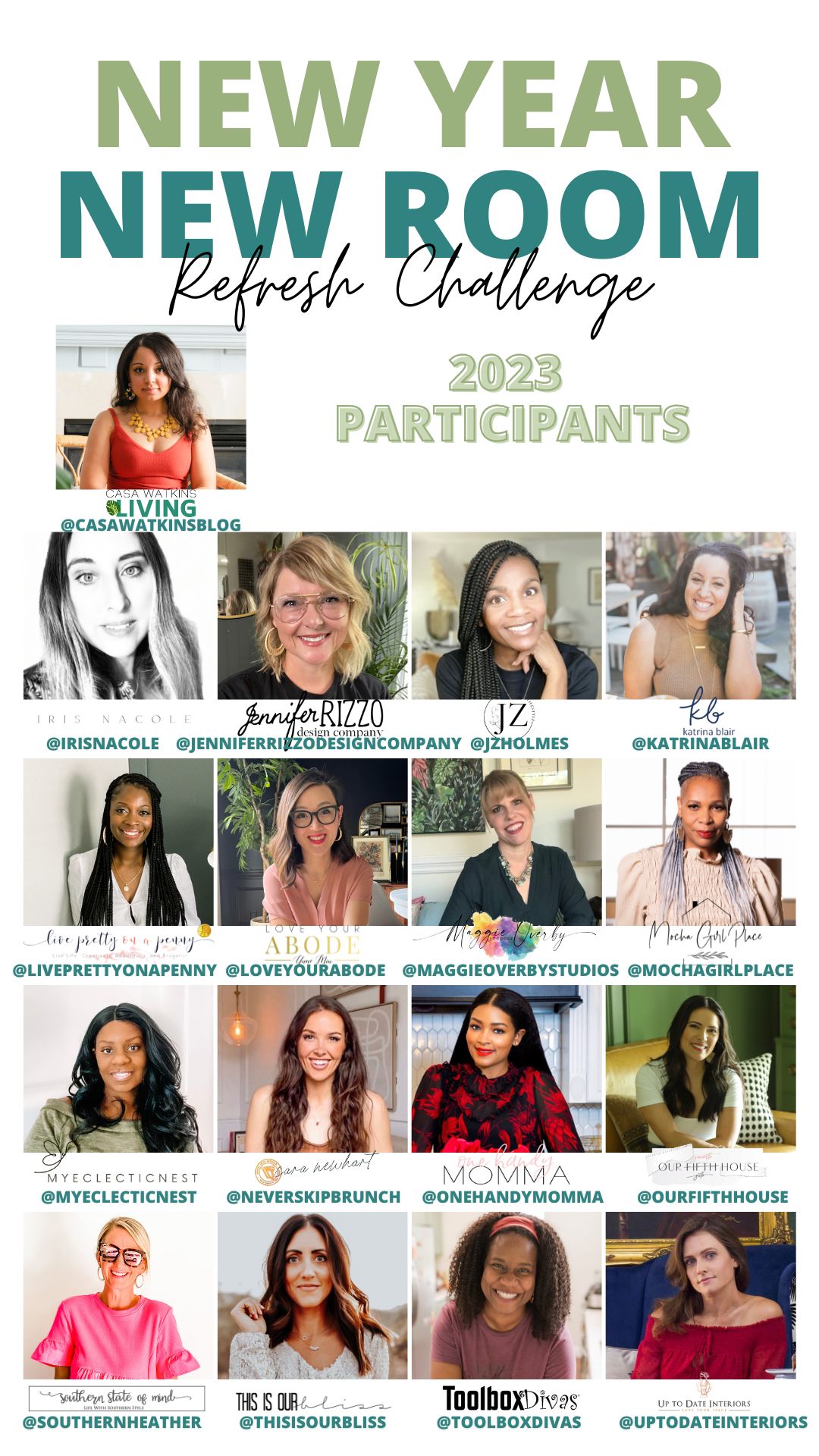 Casa Watkins Living // Iris Nacole // Jennifer Rizzo // JZ Holmes // Katrina Blair // Live Pretty On A Penny // Love Your Abode // Maggie Overby Studios // Mocha Girl Place // My Eclectic Nest // Never Skip Brunch // One Handy Momma // Our Fifth House // Southern State of Mind // This Is Our Bliss // Tool Box Divas // Up To Date Interiors
xoxo,
Let all that you do be done in Love. 1 Corinthians 16:14
This post contains affiliate links for your convenience.