After almost 6 weeks, it's finally time to share our primary bedroom reveal!
Six weeks ago, I outlined a plan to refresh our bedroom. After almost a decade, I decided to change up the wall color and switch out a few pieces to update our bedroom. Well, it's time to finally share the primary bedroom reveal with you. To tell you the truth, it's not completely done because those drapes never arrived. I'll share those new items once they get here whenever that will be.
Let's start with the BEFORE.
Here's the AFTER!
As you can see, not much changed except that I added wallpaper to this focal wall. I sold both the old headboard and rug and brought in a tufted leather white headboard from my parents' home. Lo Loi rugs kindly sent me this gorgeous Amber Lewis Interior collaboration rug. We kept the bedding the same along with the bench.
Jimmy and I gave the other walls a fresh coat of white paint and it instantly looked and felt brighter and lighter. The white walls are Alabaster by Sherwin Williiams. That's usually my go-to white paint because it's crisp yet still feels warm and inviting. I changed out the dark curtain rods for this side mount gold drapery rod and the wraparound french rod for the smaller window by the bed.
I switched out the table lamps from the hallway and brought in these soft concrete and brass lamps. They are pretty large and add a contemporary natural element to the nightstands. Always shop your home to switch out decor accessories. You instantly get a new look without spending any money.
Since I have yet to receive my new drapes, I rehung the linen ones. The peel and stick poplar wallpaper is the easiest type I've ever installed. You can cut and stick on patches and it totally blends in without any visible seam lines. I have this exact one used in various areas of our home. You want to know a secret? I didn't add any wallpaper behind the headboard. Ha!
For this corner, I installed these two whitewashed teak shelves from Signature Hardware. I envisioned a gallery wall full of art, family, and wedding photos. It can be changed up easily with different frames. I've learned that when surfaces are decorated nicely, you are more intentional about keeping those areas free of clutter.
It's not styled perfectly since I wanted to incorporate a bunch of random frames we already had around the house.
I shared this area the last couple of weeks but it's looking really pretty. The gold candleabra sconces and gold framed mirror are from Signature Hardware. They have some great lighting options as well as mirrors and hardware.
Our french doors received new brass handles from Signature Hardware too. If you're in need of a standing floor mirror, this arched gold rimmed one is a great size for the price. I would love to change out the huge fan in here but Jimmy can't live without one. As you know, marriage takes compromise sometimes, so the ugly fan gets to stay.
We are enjoying our new bedroom so much. It's amazing what a few changes will do to update a space right? We loved the moody dark walls for years but it was time for a change. Jimmy especially loves it since he works from our bedroom.
Don't forget to check out everyone else's reveals this week! Lmk what you think about our bedroom and be sure to see more behind the scenes content on Instagram.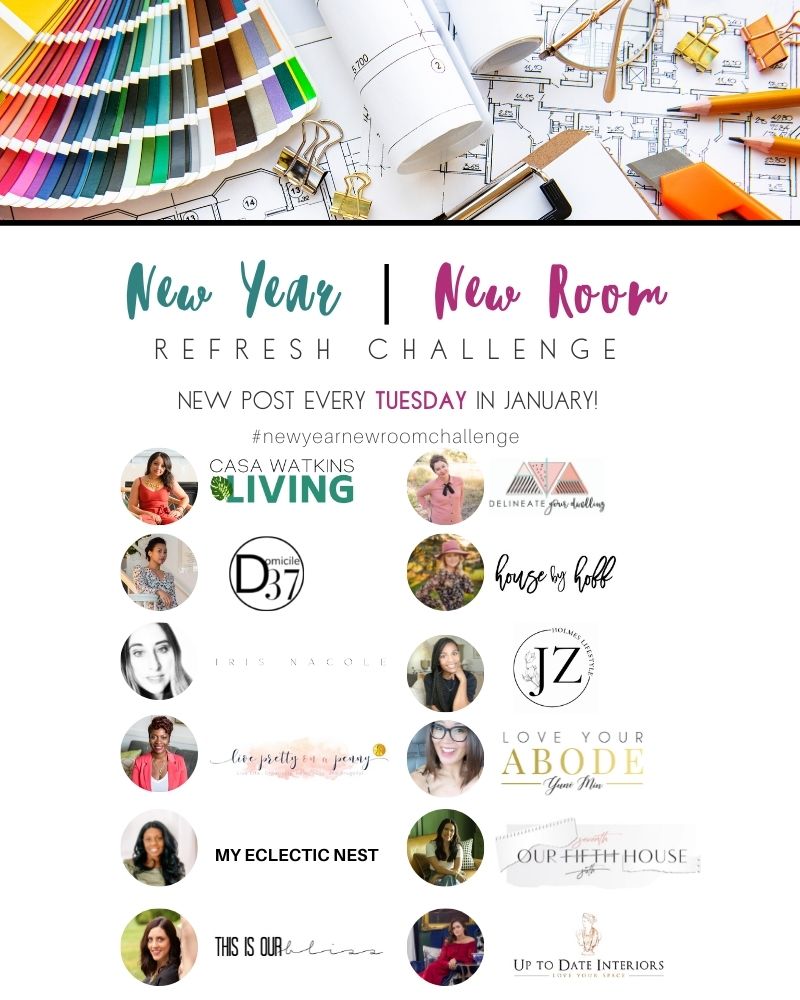 Casa Watkins Living // Delineate Your Dwelling // Domicile 37 // House by Hoff // Iris Nacole // JZ Holmes // Live Pretty On A Penny // Love Your Abode // My Eclectic Nest // Our Fifth House // This Is Our Bliss // Up To Date Interiors
xoxo,
Let all that you do be done in Love. 1 Corinthians 16:14
This post contains affiliate links for your convenience.