PRIMARY BEDROOM REFRESH WEEK 2
Last week I shared that we are giving
our primary bedroom an update
. I wasn't originally planning on painting our bedroom but when inspiration hits, I have to just go with it! After living with the navy walls for 9 years, I decided it was time for a change. Plus, there were a ton of scuffs and holes everywhere. There's something about new white walls that provide an instant fresh update. Here's a look at our primary bedroom refresh week 2.
BEFORE
This is just one area on the walls but there were many spots that looked like this. Eeks
I went with my tried and true white which is Alabaster by Sherwin Williams. I have used this white on many homes including client spaces as well as my own. Instead of moving the desk, I just crouch and squeeze under it to paint the walls.
I mean just look. The awesome part about this fresh update is that it adds so much light to the space. Jimmy has his office set up in our bedroom and he said that he normally turned on the lights around 2:30 in the afternoon. With the white walls bouncing off so much light in the room, he didn't have to turn on the lights until closer to 5!
It's just so clllllean! The navy felt rich and moody. The white feels bright, light, and airy. Both have their benefits. I will probably paint them dark again in 9 years!
This electric fireplace got a little styling with things I already owned. I've noticed when surface areas are decorated, there is less temptation to throw random items on there. Less clutter for the win!
I can't wait to show you what's going down this week! Jimmy and I painted three of the walls white and I wanted to leave the focal wall alone. I'm debating either painting it dark charcoal or wallpapering it. I ordered my favorite poplin peel and stick wallpaper and will see how it looks with the new bed and rug. And a project never gets done without some mishaps in between. I accidentally ordered a king bed when we actually own a CA king mattress so it didn't fit. Jimmy brought all the heavy pieces upstairs and then we both realized what I had done. OOPS! So he brought them all back downstairs again and we have to take it back to Home Depot. Sometimes, I miss important details like this. It's a good thing I have a husband who isn't easily annoyed because I was annoyed at myself! I'm just glad he didn't assemble it only to have to disassemble it again.
So that's it for week 2. If you want to see more updates, be sure to follow along on Instagram for more behind-the-scenes action. Don't forget to check out my friends' spaces and their updates from the past week.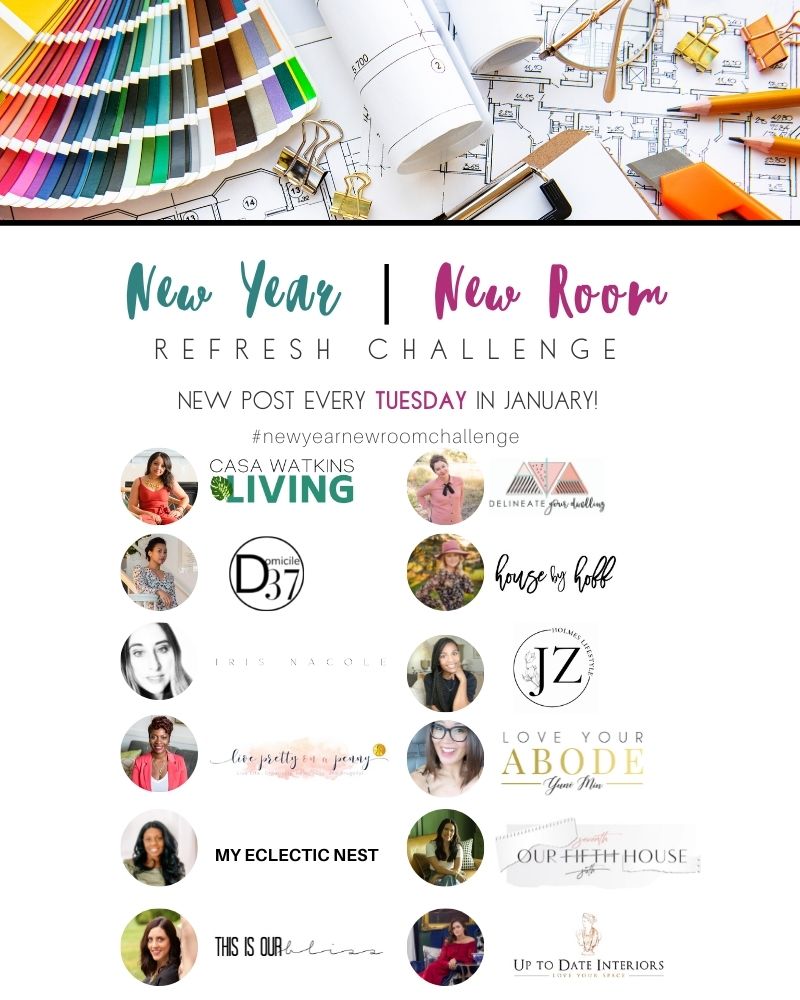 Casa Watkins Living // Delineate Your Dwelling // Domicile 37 // House by Hoff // Iris Nacole // JZ Holmes // Live Pretty On A Penny // Love Your Abode // My Eclectic Nest // Our Fifth House // This Is Our Bliss // Up To Date Interiors
xoxo,
Let all that you do be done in Love. 1 Corinthians 16:14
This post contains affiliate links for your convenience.